Welcome to Arlon Rosenoff Fine Art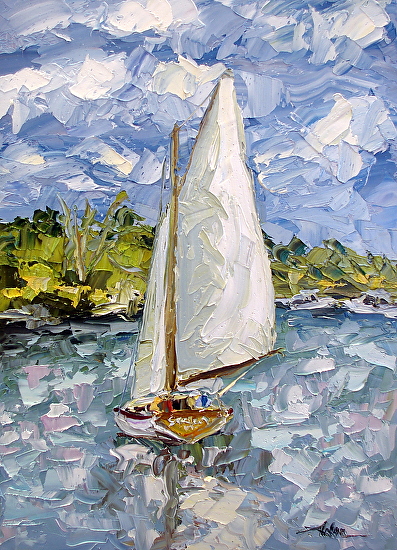 Gentle Reach 18" x 13" Palette Knife Oil on Cradled Panel
___________________________________________________________________________________________
Testimonials
I wish you could have been here when we first opened the crate and unveiled "Pine Street Affair". The colors, the brilliance, the strokes, the texture, the subtleties, the life, the romance, the bustling, yet at the same time calm and peaceful setting. Even now, many hours later I'm overwhelmed as I take in the splendor of this magnificent work. It is simply moving. The painting is absolutely gorgeous and it will be treasured wherever we are ... for a lifetime ... and then treasured by our children and grandchildren after us. Thank you so much for this unique and wonderful piece.
Private Collector from California. Thank You!
It's beautiful!! Really captures the moment! We are just returning from vacation, and what a lovely homecoming surprise. Thank you!
Private Collector in Washington. Thank You!
Now we will have a beautiful reminder of the great northwest for many years to come.
Thank you again.
Private Collector in Ohio. Thank You!
I just finished unwrapping my two new paintings and I am thrilled to add them to my collection. They arrived in perfect condition and now I need to find the perfect location to proudly display them. Thank you for your wonderful talent and I look forward to adding more of your works to my collection in the future.
Private Collector in California. Thank You!
I received my painting today, it is beautiful! Even better in real life than I could have imagined. Thank you again for the beautiful artwork!
Private Collector in Idaho. Thank You!
Good evening. All of the artwork pieces made it safely. They more than exceeded our expectations. We can not thank you enough for your kindness and generosity. Stay well and we look forward to being in touch with you in the future. P.S. My mom really loves her pieces and my brother and his wife are big fans.
Private Collector in California. Thank You!